Storm Shot 2 Basketball Arcade Ticket Redemption Game Machine
About Storm Shot 2 Basketball Arcade Ticket Redemption Game Machine
Storm Shot 2 Basketball Arcade Ticket Redemption Game Machine is a hot sale coin operated and interactive redemption basketball game machine with a high definition full play LCD screen, it is a great improvement from the traditional basketball machine, installed with a large and vertical 65 inch LCD screen to display the stories and exciting game themes, this interactive redemption game allows players to challenging their shooting skill, feel the pressure as time clicks down and pass levels by skillful ball shooting. Machine supports link-up battle, more competitive.

Compared to Storm Shot, Storm Shot 2 appearance enhances the lighting display effect, and supports a variety of colors adjustable. The basketball hoop can be moved to increase the fun and difficulty of the game. The fuselage's color design is more refreshing and bright.

How to play:
1. Press the start button to enter the portrait shooting screen. Choose play mode from single player and multiplayer.
2. Choose Game Difficulty from Simple Level, Normal Level, Difficulty Level, Ultimate Challenge Level.
3. Start shooting, a total of 4 stages, each stage of the game content is different, different methods to get scores.
4. Successfully pass 4 stages, display the total score and ranking.
Storm Shot 2 Basketball Arcade Ticket Redemption Game Machine Product Details
voltage: 220V/110V
redemption arcade game
hot shot basketball game machine
with LCD screen size: 65"
English version
single player and multiplayer modes
supports link-up battle
simple, normal, difficulty, ultimate challenge levels
shoot the ball into the hoop in the limited time to win score
collect tickets according to scores
player: single player
power: 400W
dimension: W1030 × D2420 × H2670 mm
control panel high: 850 mm
Storm Shot 2 Basketball Arcade Ticket Redemption Game Machine Other Details
| | |
| --- | --- |
| Product ID: | 011332 |
| Item Type: | Basketball Machines |
| Country: | China (ex factory) |
Storm Shot 2 Basketball Arcade Ticket Redemption Game Machine Images
Storm Shot 2 Basketball Arcade Ticket Redemption Game Machine single machine
Storm Shot 2 Basketball Arcade Ticket Redemption Game Machine two machines
Storm Shot 2 Basketball Arcade Ticket Redemption Game Machine four machines
Storm Shot 2 Basketball Arcade Ticket Redemption Game Machine basketball hoop
Storm Shot 2 Basketball Arcade Ticket Redemption Game Machine control panel
Storm Shot 2 Basketball Arcade Ticket Redemption Game Machine front door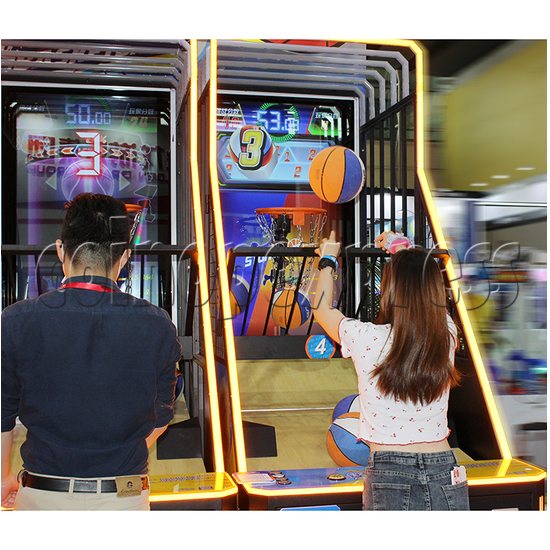 Storm Shot 2 Basketball Arcade Ticket Redemption Game Machine play view
Storm Shot 2 Basketball Arcade Ticket Redemption Game Machine play view
Please Note: there is minimum order of $200USD (more info)