Dunk Talent Basketball Shooting Machine
About Dunk Talent Basketball Shooting Machine
Dunk Talent Basketball Shooting Machine is a puzzle game which perfectly combines basketball and zombie shooting game play. It features with 43" HD display, support single play, also linked up play. Just shooting the basketballs to hit zombies to guard your home!!

Terrible zombies are about to invade, and each kind of zombies has different characteristics, such as the white-collar zombies are slow in moving, weak in resistance, the iron barrel zombies and the big zombies have extremely strong resistance, also the big zombies have extremely fast moving speed. The way that players should defend is to bomb the zombies with cannons. There are five kinds of bombs, each of them has different killing power and functions. Ordinary bombs have only one drop of blood killing power. but the deadly flame and invincible rocket have very strong killing power, which can blow all zombies into slag. The game is divided into four scenes. Each upgraded scene needs corresponding score. Players can enter the next level after reaching the score within the specified time. If players can't get the pass score or zombies climb to the top, the game is over.

How to play?
1. Insert coin.
2. Aim at the camera, take a photo for ranking.
3. Single play, press the left button to start the game.
4. Link up play, press right button to join or create a "room".
5. There are 4 ladders with 4 corresponding loops,zombies will clamb up from the bottom ladder, players need to throw the basketball into corresponding loops to shoot those zombies down.
6. If passed all levels, players can reward "Jackpot"






Dunk Talent Basketball Shooting Machine Product Details
Luxury cabinet with 43" HD display
Novel playing methods perfectly combine basketball skills with zombie shooting
Two challenge model: single play and link up play
The life value and ferocity of each kind of zombie are different. It needs players to knock down the zombies with precise basketball skills.
After each level passed, players can get double bombs as a reward, more easier to kill the zombies.
With 4 different scenes
With camera function
With ticket out
Power: 330W
Dunk Talent Basketball Shooting Machine Other Details
| | |
| --- | --- |
| Product ID: | 010861 |
| Item Type: | Basketball Machines |
| Manufacturer: | Macrown |
| Country: | China |
| Year Released: | 2019 |
Dunk Talent Basketball Shooting Machine Images
Dunk Talent Basketball Shooting Machine
Dunk Talent Basketball Shooting Machine screen display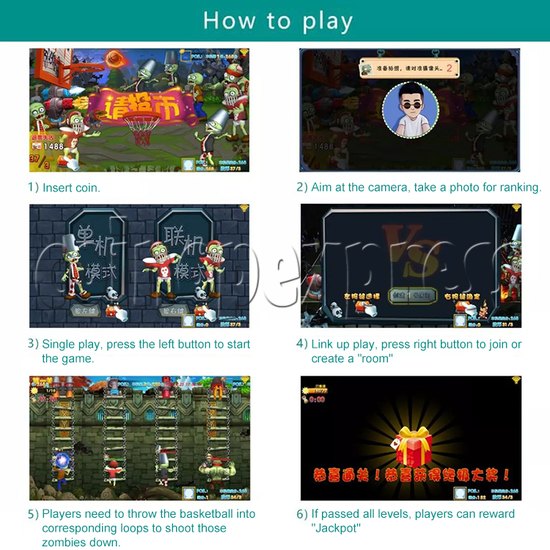 Dunk Talent Basketball Shooting Machine gameplay
Please Note: there is minimum order of $200USD (more info)