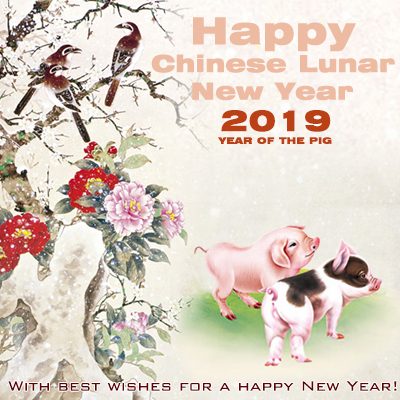 2019 Chinese Lunar New Year holiday notice!
To celebrate 2019 Chinese Lunar New Year as an official public holiday, our company will be closed from date 2nd February, 2019 to 10th February, 2019 . We are sorry if any inconvenience caused, we will be back to work at date 11th February, 2019.

Chinese New Year officially begins on February 5th, 2019, and ends on February 19th.

The lunar calendar is also associated with 12 animal signs in Chinese zodiac, so every 12 years is regarded as a cycle. 2019 is a Year of the Pig according to Chinese zodiac, while 2020 turns to be a Year of the Rat.

Chinese New Year is also called "Spring Festival" and "Lunar New Year" , and it is the most important annually recurring festival for people of Chinese ancestry all over the world. It has been celebrated for over 1,000 years – possibly much longer, and the traditions involved are deeply ingrained in Chinese culture.

On the eve before the first day of the new year, family-only dinners and reunions are held. On the subsequent days, however, many will invite friends and outright strangers to come dine with them.

For many, it is also a religious holiday, full of prayers, offerings, and other acts of devotion.

We thank you all of your support, all of us at Coinopexpress.com wish you peace and happiness this Holiday season and throughout the new year!