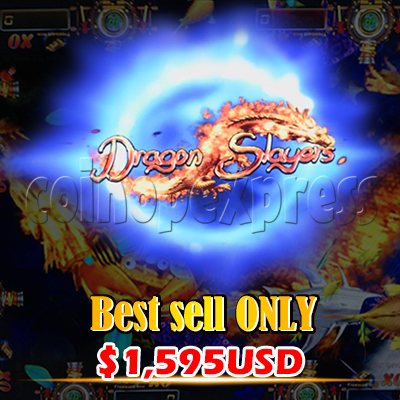 Dragon Slayer English Version Fish Hunter Game with Perfect Earning and VERY Attractive Price!
We are pleased to introduce our popular Dragon Slayer Video fish gaming arcade game board kit to the market, Dragon Slayer fish hunter game is a fantasy sea world scenes of enjoy, controlling joystick and buttons to catch fish and characters to win attractive scores, amazing with special boss to get bigger points, more exciting during the fish shooting game.

To build your arcade fish game cabinet with new " Dragon Slayer " quickly:

* English Version and video fish game;

* available for 6, 8, 10 players arcade table cabinet;

* big EARNING for every arcade center;

* profitable game board kit for sales;

* shooting fun and earning biggest scoring points to get the biggest reward;

* advanced with more attractive characters to shot, with more improvements and game features;

* the character boss includes: Crabs overlord, Prehistory Crocodile, Deep-Sea Monstre, Dragon Overlord, Phoenix, Tiger and Monkey King;

Please contact our salesman for the best price and order information.