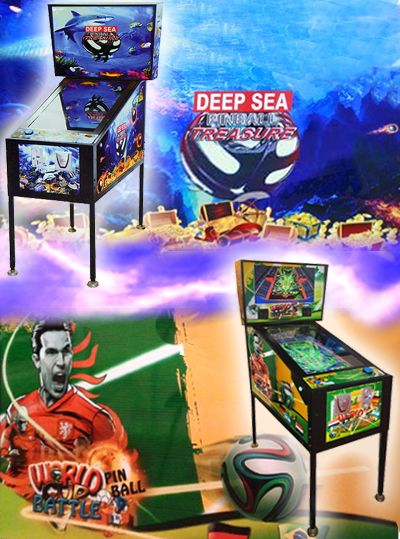 A monitor for your playfield - a real time Pinball Game machine offer!
A series of featured actual simulations of pinball games mounted in Arcade Cabinet are new released now!

These video pinball game machines are one of must-have item in arcade, simple playing, full of fun and excitement, no matter the children and adult can enjoy it. This machines are the new design by factory, what's the new? Be different than the traditional pinball game machine, you just play by buttons controller instead of the rod controlling,much easier than before. Playing in good visual effects with high definition LCD monitors.You cannot miss these high quality pinball game machines with competitive price.

Deep Sea Treasure Video Pinball Machine is the best-selling and standard video pinball game machine, with full length screen field for play virtual adventure fishing game, in classic pinball cabinet but amazing printing of all of the popular characters, the games is an exciting game with 12 missions bar, you can get different scores when you hit to treasure box, hunting shark, and deep dockyard by pressing the buttons to shot out, keep playing, getting the scores and passing the missions until the pinball fall down.

World Cup Battle Video Pinball Machine is upcoming and designs for a challenged virtual pinball game, features with a 32 inch screen in the playfield and a 22 inch AD LCD screen, based on the scene of the World Cup, just choose the football team you like as the game player, 3D display can let you be on the real World Cup, much fun with it.

Please contact our sales team for order details if you have any interests.