Ocean Spirit Medal Game - 47 LCD screen
About Ocean Spirit Medal Game - 47 LCD screen
Ocean Spirit Medal Game is a giant fish catcher medal machine, with two 47 inch LCD screens offers large scale playfield for 10 players, based with 5 various shooting weapons to catch fish, more than 22 different fishes, plays fun with shooting fish game, super fortune roulette JACKPOT game, and exciting fish racing for champion game.

Players can change different weapons shot fishes to win bonus or collect precious stone, such as change from super cannon to more powerful terminator cannon, this fish game becomes to be an exciting shooting game.

When player collects over 5 precious stone, it will get chance to play fortune roulette JACKPOT game to win 300~800 scores for bonus or lucky chance to win super JACKPOT bonus.

According to the set time, it will enter the exciting fish racing for champion game, player guesses the champion to get more reward.

The game play is more exciting and skill test with shooting special turtles with rotated rings, player try to shoot the turtles exactly through the ring, it will win more expectable bonus from the turtles. If not, the scores of turtles will be increased.
Ocean Spirit Medal Game - 47 LCD screen Product Details
player: 1 ~ 10 players
two 47 inch LCD screens
3D animation
English version
low control panel
coin /ticket output
high quality coin selectors and ticket dispensers installed
Ocean Spirit Medal Game - 47 LCD screen Other Details
| | |
| --- | --- |
| Product ID: | 008955 |
| Item Type: | Fish Machines |
| Country: | China (ex factory) |
Ocean Spirit Medal Game - 47 LCD screen Images
Ocean Spirit Medal Game - 47 LCD screen 26729
Ocean Spirit Medal Game - 47 LCD screen 26730
Ocean Spirit Medal Game - 47 LCD screen 26731
Ocean Spirit Medal Game - 47 LCD screen 26732
Ocean Spirit Medal Game - 47 LCD screen 26733
Ocean Spirit Medal Game - 47 LCD screen 26734
Ocean Spirit Medal Game - 47 LCD screen 26735
Ocean Spirit Medal Game - 47 LCD screen 26736
Ocean Spirit Medal Game - 47 LCD screen 26737
Ocean Spirit Medal Game - 47 LCD screen 26738
Ocean Spirit Medal Game - 47 LCD screen 26739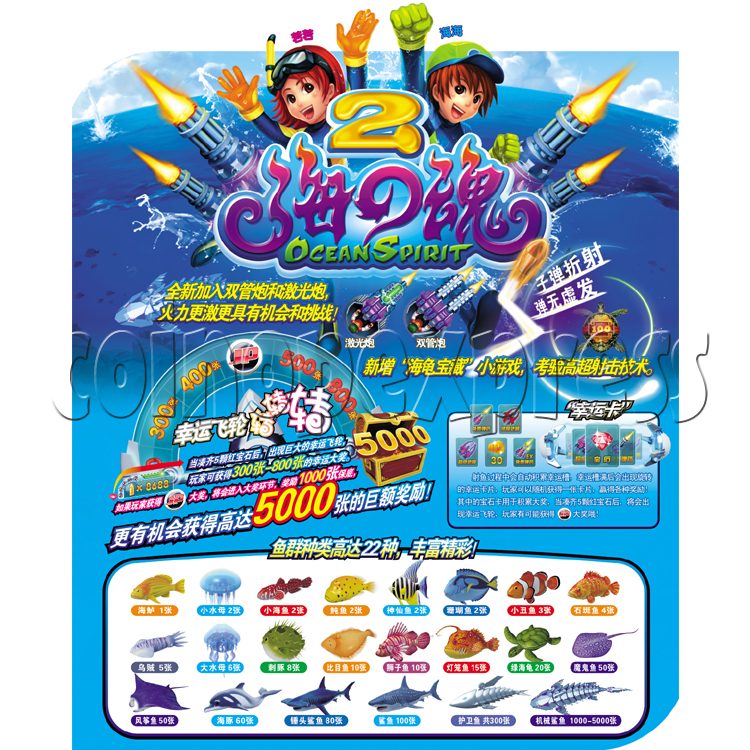 Ocean Spirit Medal Game - 47 LCD screen 26740
Ocean Spirit Medal Game - 47 LCD screen 26741
Please Note: there is minimum order of $200USD (more info)